RANKING SYSTEMS
England Darts Events
After several months of consultations with the executive of the World Darts Federation, England Darts has the pleasure of announcing their new and improved Event Ranking system for 2021.
Uniquely England Darts will now feature within their portfolio of events, three Gold and five Silver WDF category events, with an accessible prize fund through the events of £130,000.00+, this being the largest of any country within the World Darts Federation.
England are renowned for staging events which to cater for all aspects and abilities of the sport from fun players to the more serious with ambitions of World Championship successes.
England will once again scheduled the iconic Men's and Ladies British Pentathlons, with introducing new opportunities to qualify for the England International Teams consideration, plus new regional and national play-offs for qualification into the World Finals of the World Masters and World Professional championships.
Please refer to the diary dates for up to date information on the scheduled events.
England Events Rankings Table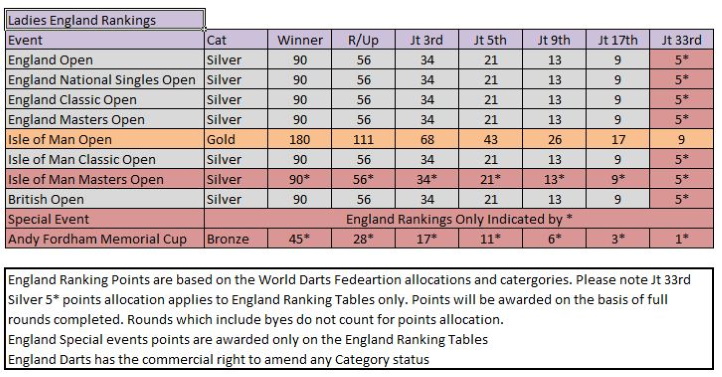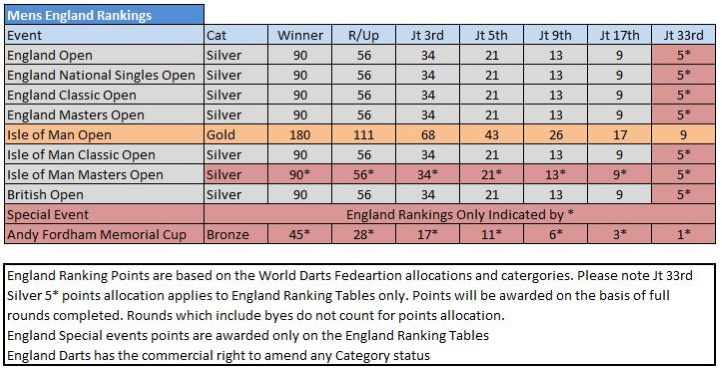 County Rankings Table
The England County Rankings Table will be used to assist the selection of "some" of the places in The England National Teams.
Inclusion into the England County Ranking Table, can be met, by a player being registered as a member of a current England County member of the England Darts Organisation Ltd. For players competing for a county who are not current members of the England Darts Organisation, they will have to be registered into the England Dart Player's Individual Membership Scheme.
The criteria used will be as follows:
The points awarded into the County ranking table will be the players attained 3 dart average plus one bonus point for winning his/her match.
Example: 81.78 match average + 1 Win Bonus point = 82.78pts awarded.
Only players, who are Gold members in the England Dart Player's Individual Membership Scheme, will be considered for selection into the England National Teams.
Subject to meeting the membership criteria and participating in the required minimum of 6 County matches, the Top 2 Men and Top 2 Ladies in the England County Ranking table will "automatically" be awarded their International places in the England Team for the Annual British Internationals Championships.
Please note Member Counties will be responsible for reporting player's performances to the England Darts Organisation Ltd, within 48 hours of the conclusion of the matches.